Today's deal is Rising Storm 2: Vietnam!
The deal options are: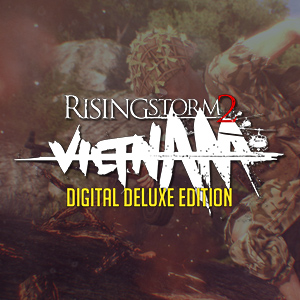 Description:
I LOVE THE SMELL OF BURGERS IN THE MORNING, AND IN GENERAL

We hate to break it to you, gamers, but games like Halo and Call of Duty, where one soldier steps up to single-handedly destroy the enemy across multiple missions and battle theaters with tons of headshots, nut shots, and teabagging is…KIND OF just a power fantasy. Real war, especially the brutal guerilla battles that made up the majority of fights American soldiers had in Vietnam, are much less sexy, much more scary, and surprisingly, still incredibly fun when adapted into an extremely high-fidelity game like Rising Storm 2: Vietnam, and that's exactly why we're so dang excited to sell it to you today for less than a cheeseburger, fries, and a drink at Five Guys.

Will you die tons more? Hell yeah. Will you get only a few kills per game? Probably, especially at first. Will you sometimes miss the delicious burger you abandoned to purchase this extremely realistic FPS? Only if you're doing it right. But eventually you'll grow, you'll get better, and suddenly…BOOM! You really will be out there in the jungle, digging traps, shooting bad guys, and lighting up the night. It'll be like in Tropical Thunder when that dude takes out that Panda, except it'll be you with a Five Guys burger.

So please, gamers, give Rising Storm 2: Vietnam a shot. Not only is it different in tone from most shooters people buy, but also, it somehow convinced us to mention Five Guys a bunch, which is remarkable as it's only a pretender to the burger throne. Obviously, In-N-Out holds the true crown, but lucky for all of us, it's still cheaper than this game, so we couldn't talk it up. We also officially apologize to all Whataburger fans, but at the risk of starting a completely different type of unjust and unwinnable war, we won't say for what.
The official trailer for Rising Storm 2: Vietnam:

Our favorite Steam reviews:
As always, use this thread to discuss this deal, talk about the game and find other people to play with!
(ノ◕ヮ◕)ノ*:・゚✧