Today's deal is Resident Evil 7 biohazard!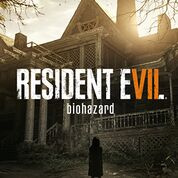 Steam: https://store.steampowered.com/app/418370/RESIDENT_EVIL_7_biohazard__BIOHAZARD_7_resident_evil/
Description:
POPULAR SHOW VISITS LOCAL MYSTERY SPOT

Jeez! You first! Give me a break, Pete! These are just a smattering of the crazy things you'll hear as the Sewer Gators gang, Peter Walken, producer Andre Strickland, and camera guy Clancy Jarvis visit some of America's most decrepit and supposedly evil places and scare the pants off Dulvey, Louisiana's primetime TV-watchers every Thursday night. (Just don't ask what happened to their original camera man…)

Whether you believe in paranormal activity or not, the Sewer Gators are practically anal retentive about what they do, and even though the footage itself may be a little bit less than high quality, the fearlessness with which they face each new location and the research they put into it will always leave you wanting more, which is why when we heard they were headed down to Dulvey's own cult landmark, the mysterious Baker Ranch Guest House, we practically burnt our andouille we were so excited!

No one knows what happened to the once prominent Baker family following the 2014 hurricane season, but the stories of all the people who've gone missing near there, along with the occasional sighting of Mr. Baker wandering the grounds in a daze, or what has been reported as demented shrieking yelps in the night keeps the urban legend alive…and if anyone's gonna crack the case, it'll be the Sewer Gators, who begin shooting their heroic all night lock-in this weekend on the property.

Look for it later this fall on WGNO on Thursdays at 9pm CDT.

WGNO, Welcome to the Family!
The official trailer for Resident Evil 7:

Our favorite Steam reviews:
As always, use this thread to discuss the deal, talk about the game, and find people to play with.