Today's deal is Pyre!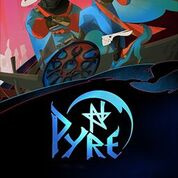 Steam: https://store.steampowered.com/app/462770/Pyre/
Description:
COURTSIDE SEATS

Don't get us wrong, basketball is a great sport, but it'd be different if it was ancient and magic and came from the Earth. If basketball was magic and came from the Earth, people would be ALL ABOUT the game in a way we've never seen before. People you know who seem like they're super into basketball right now would seem like people who aren't even super into basketball in the world where it's an ancient and magical rite.

Another weird thing would be that everyone would ALWAYS be wearing basketball jerseys. Like, right now if you drew a basic person, they'd probably have on a t-shirt and pants, but in a basketball-centric world, jerseys would be like the default option on the character creator. Beyonce would wear one. Everyday. It'd definitely be a different world. We're no experts, but it seems like life in a world like that would be pretty "basketball-tastic"!

And while admittedly, this seems weird when talking about basketball and Earth, on a distant world off in some faraway corner of the galaxy, there could be someone going through something just like it at this very moment, cast off into some awful purgatorial hole and sent through "The Rites" (aka Magic Basketball) to win their freedom. Also if the whole world was basketball, where would Jack Nicholson sit?
The official trailer for Pyre:

Our favorite Steam reviews:
As always, use this thread to discuss the deal, talk about the game, and find people to play with.