Today's deal is Post Scriptum!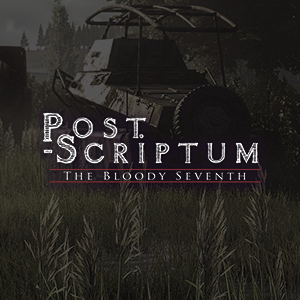 Steam: https://store.steampowered.com/app/736220/Post_Scriptum/
Description:
DAY AT THE MUSEUM

Mmmmmm…so you're back today, even though you had a chance to buy Call of Duty 4 yesterday, eh? Well, we can only assume you either super LOVE shooters and wanna buy them all, or you're still chasing that perfect game and Modern Warfare didn't exactly cut it. And look, we get it. No doubt Call of Duty is fun, but compared to how much today's game Post Scriptum tries to create a historically accurate World War II shooter, it might as well be Lord of the Rings. Well, except with a more manageable ending, am I right?

Cause here's the thing, though: Modern games with made up wars always have to guess what it would be like, but World War II actually happened. No more weirdly well-dressed modern boss villain characters magically getting an army to follow them, no more "experimental" weapons, and definitely no more super-advanced goggles that make you seem like you're a Predator from the movie Predator. Instead, we got 40 on 40 battles in photo-scanned uniforms with realistically scaled versions of vehicles, artillery, and environments, across over 100 square kilometers of real "Operation Market Garden" battle theaters in 8 different maps.

In fact, when it comes down to it, it's practically like a history museum, except with online multiplayer that only costs like a fifth of your average annual museum membership and it doesn't have cafeteria food priced like it was handmade. And we don't know about you, but getting to visit a World War II museum in our underwear, surrounded by snacks and drinks, and it's actually fun? Sign us the eff up, and sign yourself up, and get your friends to sign up. I can almost play a match with the whole graduating class! Like, it's not a draft or anything, but just like that dude Uncle Sam, we want YOU!
The official trailer for Post Scriptum:

Our favorite Steam reviews:
Sale price info:
This is the lowest Post Scriptum has ever been individually discounted according to ITAD, previous low was $18.99 on Indiegala.
As always, use this thread to discuss this deal, talk about the game and find other people to play with!
(ノ◕ヮ◕)ノ*:・゚✧