Today's deal is Phantom Doctrine!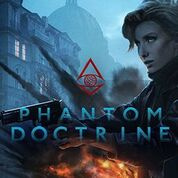 Steam: https://store.steampowered.com/app/559100/Phantom_Doctrine/
Description:
HOW NOW BROWN COW

A man in a fishing hat, dark glasses and a mustaches calmly sits down on a bench. All is still. No one is on the streets but off in the distance somewhere, he can hear someone hammering. Is it legit a construction site, or is that sound the perfect cover for a single silenced sniper shot? He has this thought a lot when he's alone. But then she walks out of an alley 50 paces away and comes over to sit right next to him. The sharp angles on her jacket, and her horn-rimmed specs give her a sinister air, but you'll never know unless you talk to her. What was the codeword again?

"Sure is a busy night, wouldn't you agree?"

She answers right away. "Busy as ever. But what about the mice and the birds?"

It's her. We've made contact. "Do you think they had us followed?"

But then, confusion. "The mice and the birds? Sorry, why would they follow us?" Your mind is racing. Is it possible she's just a bystander who randomly said the coded reply?

"…uh."

"Nah, I'm just screwing with you. Of course I wasn't followed. Haha. You should have seen your face!"

"Pssh. I knew it was you the whole time," he lied, "I just wanted to see what you'd do…"

"Oh man yeah, wow, you really had me going there…" He couldn't see her eyes through her glasses but he could tell they were rolling.

"So do you have the data for me or not?"

"I dunno. Are you going to admit I tricked you?" Proud friggin' spies. This is why people happily take desk jobs.

"Okay FINE, yes, you tricked me. Now can I please have the data?" She laughs and hands it right over from a pocket inside her lapel. "It should all be right here."

He unrolls the paper. All it says is "Phantom Doctrine is half off at Chrono.gg today." Must be some weird codeword he wasn't privy to. He carefully put away the paper and moved to ask her more before he realized she was gone. He was alone on the street again with the stillness and the hammering.

"I really hate spies." He said, smiling.
The official trailer for Phantom Doctrine:

Our favorite Steam reviews:
As always, use this thread to discuss this deal, talk about the game and find other people to play with!
(ノ◕ヮ◕)ノ*:・゚✧