Today's deal is Overcooked! 2!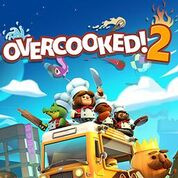 Steam: https://store.steampowered.com/app/728880/Overcooked_2/
Description:
CHEFS WEIGH IN ON OVERCOOKED 2

Well gang, it's finally here on Chrono.gg: Overcooked 2, probably the craziest co-op cooking game ever made, is available today for more than 25% off! We think this game is great, but don't take our word for it! We talked to some of the most popular chefs in the world to see what they think:

"When I inspect a new kitchen for the first time, I love to go look in the back and see if they're storing the raw meat next to the cooked meat. If they are, that's how I decide whether the shirt comes off later in the episode. This game isn't really about that, but I played it with my shirt off anyway." -Gordon Ramsay

"Oh man! I love this game! It's stupid silly fun to just take out a bottle of donkey sauce and get a nice inch-thick layer of it onto every surface in the kitchen. Then, before I clean it up, I'll usually play a couple rounds of Overcooked 2 to give the cream time to soak its smell into the counter-top! Rock n' roll, kemosabe!" -Guy Fieri

"I am very old and deliberate and slow, but my food is the best in the world. I had a great time playing Overcooked 2, but I kept losing because I love gingerly brushing my food with a thin layer of soy sauce before it comes out, and for most of the stuff you cook in the game, that's pretty nasty. Also, it was so fast I almost died. I may yet still." -Jiro Ono
The official trailer for Overcooked! 2

Our favorite Steam reviews:
As always, use this thread to discuss the deal, talk about the game, and find people to play with.