Today's deal is Overcooked! 2!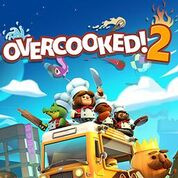 Steam: https://store.steampowered.com/app/728880/Overcooked_2/
Description:
KITCHEN DAYDREAMS

For some, cooking food is just…a means to an end; something to shovel into your mouth like an animal after work swaying back and forth underwear-only in the grimy living room light, a soggy old roast technically satisfying an overcomplicated holiday obligation, a way to stop your hungry little monsters from screaming after school. It makes sense. Life gets more and more complex every day. Why should you spend any extra time on it when less will do the job, or even better, you can pay someone else to do it for you?

And look, we realize that doesn't sound too convincing coming from a faceless purple website with the audacity to ask you to pay US to help you PRETEND to cook on a COMPUTER SCREEN, but trust us for a second, won't you? This is our whole life, you know? We know what we're talking about. Overcooked! 2 is too good not to get addicted REGARDLESS of whether you care about food or not, and the sooner you let your perception of cooking grow beyond a Grinch-like disregard and into something more holistic, artistic, and spiritual, the better you will get at the game (not to mention cooking in real life).

So whaddaya say? Do you and a couple friends have a few bucks lying around? Do you want to grow closer as people? Are you ready for the joy of culinary beauty to explode across your brain? Then why not grab a copy of Overcooked! 2 between the four of you? You won't regret it, and in fact, it might change your mind about food in general! That is, if you didn't totally love it already. Then you probably already know.
The official trailer for Overcooked! 2

Our favorite Steam reviews:
As always, use this thread to discuss the deal, talk about the game, and find people to play with.