Today is One Special Day!
Welcome to the One Special Day Sale! We've teamed up with Paradox and Genba to bring y'all some kickass deals, with proceeds benefiting gamers with disabilities. Click here to learn more!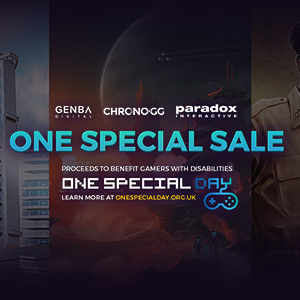 The deals are:
Description:
A SPECIAL OCCASION

People will tell you that a paradox is like the kind you see in sci-fi, where something unexplainable happens, like a portal opening or an alien rock showing up, and then suddenly the impossible is possible. Like if you went back in time to when your old scary middle school teacher was twenty-six years old, while you yourself were also twenty-six years old, and then you two fell in love and got married, who would you have met back in middle school on the day their partner came along as a chaperone on your class trip to the aquarium? See? It's a paradox for sure, but before that scenario gets any weirder, let's tell you why to us, paradox means buy games and changing lives.

See, today is an awesome event called One Special Day where you and everyone else reading this have a chance to really make a difference in the lives of thousands of aspiring gamers with disabilities who would absolutely love your help with realizing their dreams. One Special Day is a day where people all over the internet are offering tons of awesome games and gaming-related swag at crazy low prices, where all the proceeds go straight to charities that provide personalized controller setups enabling anybody to play exactly the games they want. For Chrono.gg, that means an absolutely INCREDIBLE sale on games by Paradox Interactive like Stellaris, Hearts of Iron IV, and Cities: Skylines, and all you have to do to help out is buy them.

Now sure, you could make this about finding the best deal, or whether or not you ever want to play these exact games, or even about why we would ever think it was a good idea to open this post with a story about hypothetically marrying a young version of your old middle school teacher, but all of that is, quite honestly, beside the point. Instead, if you can afford it, just dig deep. It's not about you. It's about making games available to anybody who wants to play them, especially those who couldn't before. And just to be clear, when you travel to the past, both of you are already well into your twenties, and it's a nice slow-moving wholesome thing between two loving adults.
The Official Trailers
Cities Skylines:

Stellaris:

Hearts of Iron IV:

As always, use this thread to discuss this deal, talk about the game and find other people to play with!
(ノ◕ヮ◕)ノ*:・゚✧