Today's deal is OKAMI HD / 大神 絶景版!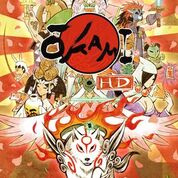 Steam: https://store.steampowered.com/app/587620/OKAMI_HD/
Description:
JUST THE BASICS

If you're a simple person like us, you like succinct explanations. Now, to be perfectly honest with you, the downside is it never gives you the full story, but when you're in a world like ours where people eat your head off for saying "spoilers" on the internet for a thirteen-year-old classic video game, keeping it simple has its benefits as well. That's why we've decided that all we're going to tell you about this game is that it's really good, it‍'s by gaming auteur Hideki Kamiya, and you play as a dog with a paintbrush.

Now, is that really a fair explanation of Okami? Absolutely not. It doesn't even describe the basic premise of who the dog is or why they have the brush, but do us a favor and let your imagination run wild for a little bit. What would a dog do with a paintbrush? Is it like, an artist dog who's smart like a person? Is it a stupid dog that's making a gross painty mess? Does the dog speak english like a human or bark like a regular paintbrush-free dog? The possibilites, quite amusingly, are endless.

So here's to picking up a copy of Okami HD for under ten bucks, finally giving it the time it deserves, and enjoying a beautiful classic. And maybe for the sake of us people out there who don't need everything spelled out for us, have fun on your own while you play. Don't look at a guide, just enjoy. And like a feral dog with a dirty old paint roller, have fun making a couple messes, ya sweet little rascals.
The official trailer for OKAMI HD / 大神 絶景版

Our favorite Steam reviews:
As always, use this thread to discuss this deal, talk about the game and find other people to play with!
(ノ◕ヮ◕)ノ*:・゚✧**