Today's deal is Ni no Kuni™ II: Revenant Kingdom!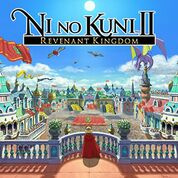 Steam: https://store.steampowered.com/app/589360/Ni_no_Kuni_II_Revenant_Kingdom/
Description:
NI NO NOTUS

Sir, please don't be alarmed, but there seems to be a missile on the way to blowing us up, and I don't think we have time to escape, but before we go, there's something I need to get off my chest. You are the PRESIDENT of the COUNTRY for Pete's sake, and honestly, it's not a good look to be sitting around in your office all day playing whatever that game is, Ni No Noony or whatever.

Look, I know it's a stressful job, and that it's not fair that no matter what you do someone's gonna be mad about it, and if I'm being real, it does look beautiful, like maybe a bunch Ghibli people got hired to work on it, and I hear the battle system is much more exciting than the first one, but we can't just keep sending out the press secretary to cover for your gaming addiction, dude!

Just be real for once, you know? Just hop on the airwaves, address the nation, and come clean! Let em know Chrono has the best deals, and that getting Ni No Nombi made you into a gamer, and that you won't stop until you beat the game or a missile comes and blows us all up! Anyway, I'm headed out, my chopper's taking off, and I just had to do this or I'd never be able to live with myself. Hope it's good, at least.
The official trailer for Ni no Kuni™ II: Revenant Kingdom:

Our favorite Steam reviews:
As always, use this thread to discuss the deal, talk about the game, and find people to play with!