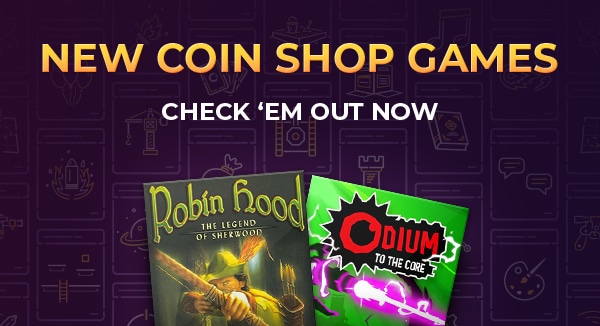 CELEBRATE THE DIFFERENCES

If you put all the games ever made into a giant virtual bag, and you shook that bag real good, then pulled out two games, today's shop games are exactly what you'd get. There's seemingly no logic to the choices today, they are polar opposites in almost every way. One is a single-button music-based action game with bright colors released in the last year. The other is a nearly 20-year-old isometric strategy game based on the legend of Robin Hood.

It would make sense to only grab one of these games, since the likelihood of someone enjoying both seems small, but you could view that as a challenge. In fact, get both and then play both at the same time. Live life on the edge.

Odium to the Core
Odium to the Core is a challenging single-button, music based game with a dark monochromatic art style. Guide Odium through dangerous and intense music-fueled levels to eliminate the spreading corruption. Reach the core and save the world!
Robin Hood: The Legend of Sherwood
Roam the dense foliage of Sherwood, come face to face with royal trouble and battle against Prince John's forces as you take on the role of legendary nobleman, Robin Hood.

There's a method to the madness.