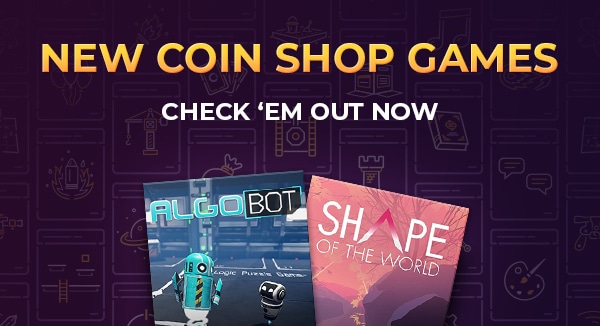 BRAIN GAMES

How are you feeling today? Are you excited that it's Friday, energized by the fact that the weekend is so close? Or are you exhausted from a hard week, wanting nothing more than to zone out and relax? Either way, as your benevolent free game dictator, we've got the game for you!

Algo Bot
Algo Bot is puzzle game that takes place deep inside the Europa, a pan-galactic colonisation ship, where a recycling mission goes horribly wrong. Use your algorithm special skills to command Algo Bot, a service droid, and help PAL, a cantankerous line manager, to contain the crisis.
Shape of the World
A serene first person exploration game in a surreal, organic world that reacts to your presence. Journey through a psychedelically colorful ecosystem of flourishing flora, rambling waterfalls, burgeoning mountains, glowing monoliths and graceful creatures. A 1-3 hour escape from work, anxiety and stress.

Or play both at the same time.