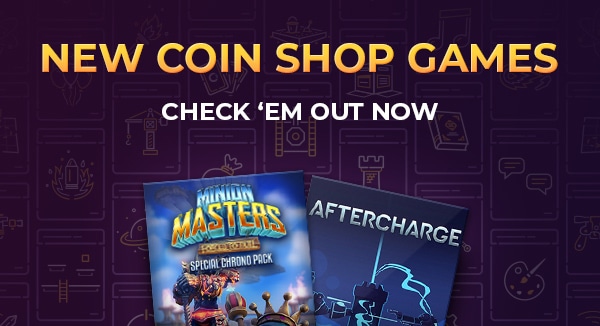 PLAYS WELL WITH OTHERS

Today, we're going to act as your parents and tell you to stop playing video games alone. Unlike your parents, however, we're fine with you playing games, we just want you to play with some other people. That's why we're doing a surprise coin shop drop today with two fantastic multiplayer-only games. Go out and make some friends!

Aftercharge
AFTERCHARGE is a 3 vs 3 competitive game pitting invisible robots against an invincible security squad in high-octane tactical skirmishes. The robots must sneak around to destroy all the energy extractors on the site while the guards are tasked to spot the attackers and stop them.
Minion Masters - Special Chrono Pack
Join epic solo or team battles with over a million players around the world in Minion Masters - the dangerously addictive hybrid of tower-attack, MOBA and deckbuilding!
This package includes:
-A Hypnotize Watch Avatar
-Crimson Milloween Skin
-1500 Gold
-3 Power Tokens

Remember to share.