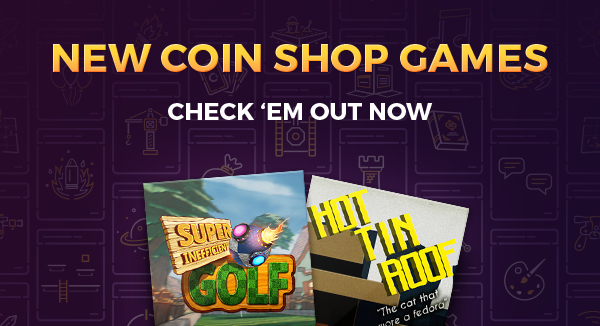 A WASTE OF MONEY

Now don't get the wrong idea. We're not saying today's shop games are a waste of money, quite the opposite in fact. Instead, we're saying that cat toys are a waste of your hard earned dollars. Our feline friends famously prefer the packaging to the contents, so why not skip the toy all together and just throw them one of the 14 Amazon boxes you have piled in the corner and take all that money you saved and spend it on… Well, not these games since they're already free so you should get them regardless. How about Sekiro? We've heard that's nice.

Super Inefficient Golf
Super Inefficient Golf builds on top of the most inefficient game ever conceived by making it even LESS efficient. Drop your silly golf stick and start using exploding mines to guide your ball! Place them, choose the right timing, and BOOM - Birdie!
Hot Tin Roof: The Cat That Wore A Fedora Deluxe
You're the Private Investigator on a string of grisly murders, scouring for clues in a 3D side-scrolling world. Grab your fedora and revolver - in Hot Tin Roof you're on the case! Dive into a noir mystery and become Emma Jones, the only PI partnered to a cat named Franky.

FORE!