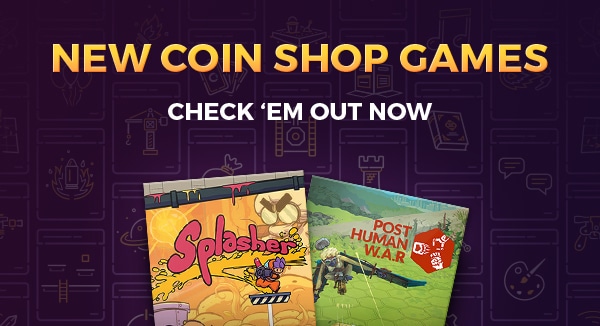 COLOR THE WORLD RED

Some claim that war never changes, but we'd have to disagree. We have two pieces of evidence that show that war has indeed changed in some pretty drastic ways. In our first piece of evidence, the dawn of the third millennium shows that war is fought not by man, but by beast and bot. The second piece shows war at a smaller scale, where a hero is using paint rather than bullets to defeat their foe. So don't believe those who say war never changing, maybe they're the ones that don't change.

Splasher
Splasher is a fun and challenging 2D Platformer filled with humor and surprises. Armed with a paint cannon, you'll face the dangers of the Inkorp mega-factory in order to save your companions, the Splashers, and put an end to the Machiavellian projects of the evil boss, Le Docteur.
Post Human W.A.R
Post Human W.A.R is a turn-based tactical and psychological strategy game, with no randomness. It is set in an absurd post-apocalyptic world. Unmask the enemy's secret unit and destroy it to win the game!

Neither game comes with a canvas bag, sorry.