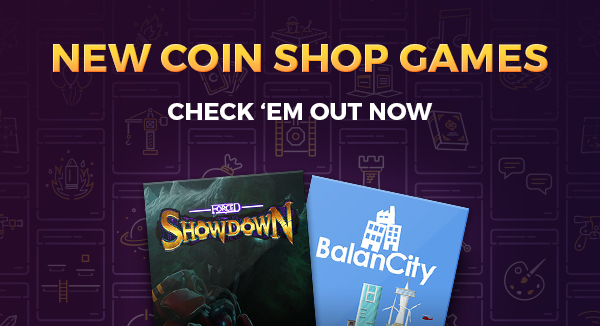 GAME DESIGN IS ALL ABOUT BALANCE

Even though we are deeply embedded in the gaming industry, no one at Chrono would consider themselves a game developer, that's a skill none of us really have. That being said, after selling games for nearly 1,000 straight days, we think we're at least slightly qualified to comment on game design generally, and we're here to drop a bombshell: games are all about balance.

This may be a shocking development for some of you, but don't worry, it will all make sense after playing these two new shop games. You see, one of them uses a more abstract concept of balance to create compelling mechanics. The other uses the literal concept of physical balance as its primary focal point. Both require skill and strategy, both require balance, and both are great games. This ends our essay.

FORCED SHOWDOWN
Deckbuilding empowers this challenging bullet hell adventure! Each character is a unique experience: Choose a deck of unlockable cards to boost you in new ways every battle - "My whirlwind shoots fireballs!?". Battle hordes of brutal foes to become a superstar in C-SAR's ever-changing game show.
BalanCity
BalanCity is a city building / balance physics game. It's a mixture between old school SimCity and Jenga. You must build the tallest towering city over a balancing platform while keeping your citizens happy…

The Wii Balance Board is a whole other topic.