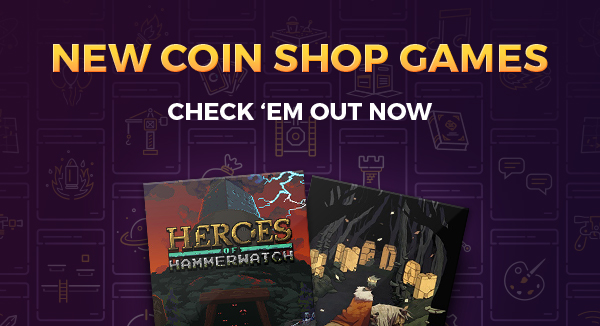 WE CAN TELL BY THE PIXELS

The humble pixel doesn't get enough love. We, as gamers, look at literally trillions of different pixels every day. How many times do we stop and admire those little squarebois? Not often enough in our estimation.

That's why we're excited to offer two games today on the coin shop that highlight the beauty of pixels by putting them front in center. Instead of 3D games with millions of vertices or 2D games with high resolution art, these games hearken back to a time when pixels were thicc and got the appreciation the deserved.

Heroes of Hammerwatch
Heroes of Hammerwatch is a rogue-lite action-adventure. Explore and battle your way through procedurally generated levels on your own or with up to 3 friends.

Kingdom: Classic
Kingdom is a 2D sidescrolling strategy/resource management hybrid with a minimalist feel wrapped in a beautiful, modern pixel art aesthetic.

We don't support Pixels the movie, though.