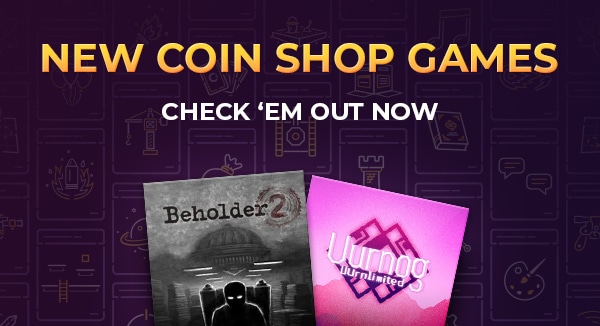 WAR OF THE WORLDS

Oh boy do we have a choice for you today. On one side, we have the wacky and whimsical world Uurnog Uurnlimited, filled with weird people and adorable animals. It's colorful, silly, light-hearted, and fun. On the other, we have the dark and depressing world of Beholder 2, filled with bureaucracy, back stabbing, and Bolshevism. The two worlds couldn't be more different, so now it's time for you to make your choice.

Uurnog Uurnlimited
Enter the wacky & whimsical world of Uurnog Uurnlimited! Explore a silly, puzzle-filled land full of cubes, bombs, weird people & adorable animals — then steal them all! Play single player or co-op as you jump, grab, throw & teleport your colorful collection back to the Save Room (and try not to destroy it).
Beholder 2
You are a newly employed department officer within the Ministry of a totalitarian State. While you are poised to have an illustrious career and possibly become Prime Minister someday, the way up won't be easy. So, how high up the career ladder will you climb? The choice is still yours to make!

Watch out for the water.