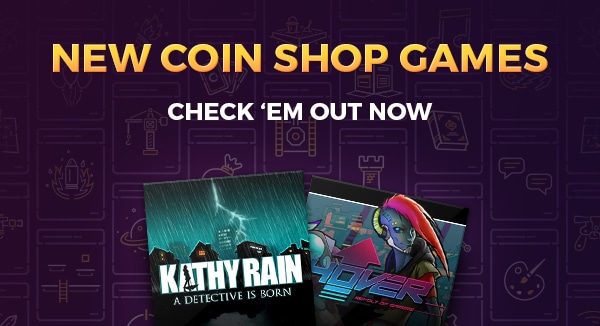 NO RELATION

It's happened again. We've been saddled with the task of somehow relating two completely dissimilar games. We're just not even going to try. Maybe that speaks poorly of our writing chops, but seriously, look at these two (totally excellent) games and try and write a pithy paragraph about them relating to one another. It's impossible, we're not paid enough for this, just look at the monstrosity of an email subject line we forced upon your peepers. We'd apologize, but we get a sick pleasure out of it.

Kathy Rain
Set in the 90's, Kathy Rain tells the story of a strong-willed journalism major who has to come to terms with her own troubled past as she investigates the mysterious death of her recently deceased grandfather.
Hover
Experience the thrills of a fast-paced single and multiplayer Parkour game. Join the Rebellion and deride the security forces of an anti-leisure tyranny. Rise up to the many challenges of a futuristic Open World. Assemble your team, enhance your gear and perform incredible tricks and combos.

We do really want to see that movie though.