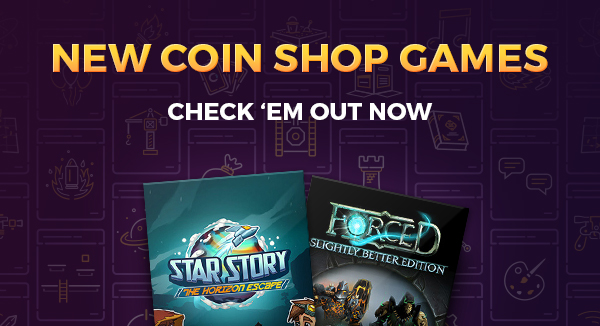 TRIALS AND TRIBULATIONS

We try and be pretty inclusive here at Chrono HQ. Whether you're into fast-paced co-op arcade arcade or turn-based text adventure RPGs, we've got you covered. If you like both of those things, then today is your lucky day my friend, 'cause those are exactly what we're offering on the coin shop. Take a fun, relaxing jaunt through a choice-driven adventure, or grab a friend and solve challenging, tactical combat puzzles. Either way, you'll have a great time.

Star Story: The Horizon Escape
Join the journey of a funky space archaeologist who crashed on an unknown planet. A text turn-based adventure RPG in which your choices actually matter. Talk, explore, fight, make decisions to find a way out! Colourful graphics and the old comic book spirit.
FORCED: Slightly Better Edition
FORCED is a challenging 1-4-player game with co-op at its heart! A mix of tactical arcade action, RPG elements and puzzles will forge you and your friends together. As slaves in the toughest gladiator school of them all, you will face a plethora of unique trials - designed to be your death!

If you don't like either game, better luck next time.