Today's deal is NECROPOLIS: BRUTAL EDITION!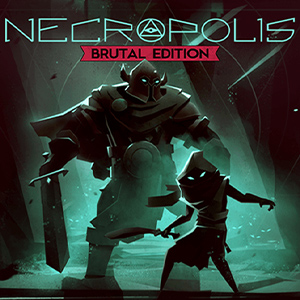 Steam: https://store.steampowered.com/app/384490/NECROPOLIS_BRUTAL_EDITION/
Description:
WHY DO THESE KINDS OF PEOPLE ALWAYS TALK TO ME

Alright, look, so I heard you talking to that hotel guy over there, what do they call them? The kong sea urge? I don't know French. You and your three friends, you're…looking for somewhere fun to go tonight, right? Of course you are, bunch of good lookin' folks like yourselves…heh heh…look, I'm not trying to creep you out or anything, but my buddy and I love going to this one place…it's pretty far, but it's REALLY cool…like, mega cool. But don't freak out, okay? Because the name is kind of weird for some people. It's called the NECROPOLIS.

But! But! Buuut! The thing you'll never expect is…it literally IS ONE! Like, dude? It's fully horrendous. Like I would actually describe it as a deathtrap filled with magic. Like, it SUCKS…but also like…did you ever really imagine that you'd see a real endless chasm in your life? Have you ever seen an IRL hallway that you would even come close to describing as "twisting"? It's deadass like Peter Jackson in there, dude.

Plus, and this is super DUPER crazy, and again, I swear I'm not some messed up in the head type of dude, but there's tons of stuff to kill in there, and since I don't think the United States is like, trying to lay claim to real estate that may or may not actually be located within this Earthly realm, I don't really think there's like, laws? In there? So basically, you can just steal stuff of the dead monsters you slay. Wouldn't that be crazy? I've done it. I'm not even weird. You should. You should. It's wild.
The official trailer for NECROPOLIS: BRUTAL EDITION:

Our favorite Steam reviews:
As always, use this thread to discuss this deal, talk about the game and find other people to play with!
(ノ◕ヮ◕)ノ*:・゚✧