Today's deal is Monster Sanctuary!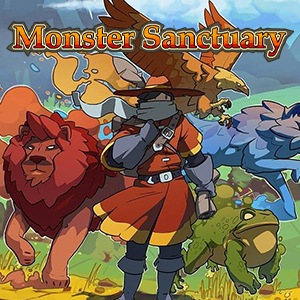 Steam: https://store.steampowered.com/app/814370/Monster_Sanctuary/
Description:
A ROUND OF JELLY DONUTS PLEASE
So we've all gotten to point one way or another where we all fantasize about having some sort of video game monster sidekick as our best friend, right? Pokemon counts. But in a world without Pokeballs, is travelling with six powerfully magic creatures even viable? When we were kids and used to watch Brock the Pokemon breeder whip up some insane snack for his little buddies while on the road, but what happens if your monster sidekick is enormous and eats two pigs per day?

Are you really goin' out into the woods to tend to the needs of six different creatures? Like, honestly, you'll probably end up super strong and super disciplined if you succeed, but I don't think most people think about many bathroom stops that is, not to mention all the word of cleaning and preparing the food. And what about training? Pokemon level up through battle, sure, but you know you gotta practice with them to make perfect, right? Can you imagine trying to run that afternoon workout class? With like, an ice wolf, a fire moth, and FOUR others?

It's crazy. But luckily for you, none of that stuff IS actually real, and we're just here to sell you a video game about it. Traverse the map with creatures you meet along the way, and like Samus or Alucard before you, the more you explore, the more you'll be ABLE to explore next time, just, you know, with monster abilities instead of items or keys. Though sometimes technically the creature will have it's own weapon or tool, but we're not trying to hold these things up to the same intelligence standards as a human, you know? These ones don't even say their own names…
The official trailer for Monster Sanctuary:

Our favorite Steam reviews:
As always, use this thread to discuss the deal, talk about the game, and find people to play with.