Today's deal is a METAL SLUG Pack!
Includes METAL SLUG, METAL SLUG 2, METAL SLUG 3, and METAL SLUG X!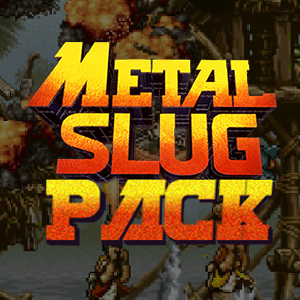 Steam: https://store.steampowered.com/app/366250/METAL_SLUG/
Description:
MISSION 1 START!

IS there a game that's more nostalgic to people who remember being hype for the Razr flip phone than Metal Slug. I mean sure, people can front and say whatever other game, but unless you have no soul, just close your eyes and remember the laundromat or the pizza place or the grimy local arcade where the red NeoGeo cabinet costs less than every other game, and you'd greedily hit the next button again and again, hoping you'd finally land on one of those wild fusion jazz soundtracks, red splattering blood, and the low guttural moan, often played in unison with itself like notes on a keyboard, of a man going "Ohhh…"

That's Metal Slug, baby! Shoot guys, make explosions, drive little tanks, jam out to the music, learn the boss patterns over half a decade of pepperoni slices, rinse repeat! And don't forget about those weird hostages, either! Like, are they all related? Why are they impervious to bullets? If they're all carrying special weapons, why don't they fight back? How did they let themselves get tied up in the first place? Don't you think mixing heavy weapons with total invulnerability is a smart combo? Why have the enemy spread them around the battlefield like Saltbae does salt over knife-abused strip steak? Seems like the absolute SOURCE of their own demise…

But yeah! Today we're talking one penny less than $4 to own, that's just 16 quarters, for not just Metal Slug, but also Metal Slug 2, Metal Slug 3, and the fastest and sexiest one of them all, Metal Slug X. How can you not buy a game that ends in X? Deny it as you might, these are your favorite games from your childhood, so unless you're one of those people who's ride or die for the Area 51/Maximum Force combo cabinet, slap down four ones and recapture the magic today. NeoGeo for life.
The official trailer for METAL SLUG:

Our favorite Steam reviews:
As always, use this thread to discuss this deal, talk about the game and find other people to play with!
(ノ◕ヮ◕)ノ*:・゚✧