Today's deal is Medieval Shopkeeper Simulator!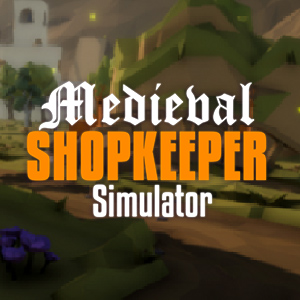 Steam: https://store.steampowered.com/app/677450/Medieval_Shopkeeper_Simulator/
Description:
MENTY THE DWARF

In the earliest age of the Darkened Grouse, a young dwarf called Menty was born in the subterranean halls of the Hollow Sound to beard-braider parents. Like all dwarves he was drawn to crafting and blacksmithing, but when he dyed his hair pink and green his parents cast him out, and he became the first dwarf ever to live side by side with humans. Subsisting on and selling worms, bugs, and rocks he found around town at off hours, Menty's slowly became a neighborhood institution in the River Kingdom, and since dwarves live way longer than humans, it had a lot more freshness and staying power.

Forty years later and Menty the dwarf was one of the wealthiest and most benevolent residents of the castle town, and while now he sold tons of great adventuring gear and enchanted artifacts, every night until his death three hundred years later at the hands of an escaped zoo bear, he ate a worm and a rock for dinner with bugs as desert. The shop continued on even beyond his life however, and eventually, thousands of years in the future, Menty's was the first shop to offer basic computers to the River Kingdom, and every item was imprinted with a slick modern version of Menty's half-eaten worm and rock logo.

Now what is the point of this story? Why did we tell you this? Often, with true stories the meaning isn't clear. Menty wasn't a perfect man, and there's nothing specific from his story for you to walk away with other than if Menty could be the next big Medieval Shopkeeper, so too can you. Also, if you eat rocks and worms everyday, eventually you'll save enough to start a tech company! So get saving!
The official trailer for Medieval Shopkeeper Simulator:

Our favorite Steam reviews:
Sale price info:
This matches the lowest Medieval Shopkeep Simulator has ever been individually discounted according to ITAD, previous low was $5.99 on GreenManGaming
As always, use this thread to discuss this deal, talk about the game and find other people to play with!
(ノ◕ヮ◕)ノ*:・゚✧**