Today's deal is Lost Castle!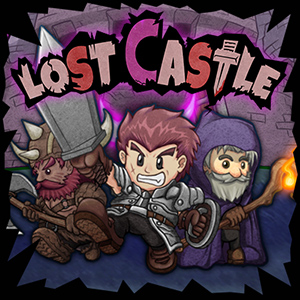 Steam: https://store.steampowered.com/app/434650/Lost_Castle/
Description:
THIS OLD HOUSE

Welcome back guys, for another crazy episode of "What's In This House?!", where I explore abandoned houses so you don't have to! This week, I'm out here at Castle Harwood! It's in the middle of the woods! Apparently one time, it was owned by a bunch of rich nobles, but now everyone says it's haunted and there's all kind of weird crap inside! One dude said his dad got eaten! I don't know!

But the main reason I'm out here with my GoPro tonight is that I heard there's also a crazy treasure inside! Yeah! Apparently the dude was an Earl and when the demons or whatever took over, he left his life's savings behind! I don't know about you, but I'll risk death by "demons" for some gold pieces, you know what I mean! So yeah, come along with me while I take a closer look! Some people might say I'm crazy for filming myself out in the woods like this so much, but I love it, so…okay yeah. I'm a little crazy.

But let's go! Okay, let's just get over this wrought iron gate real quick…oh crap, this bush smells like cat piss! Let's walk up to the side of the wall, I'm just trying to look for a window at this point…and…yes! There we go! Oh, whoa! Holy crap, dudes! Look at that! Oh my go-whoa! Look at that! It's real! It's all effing real, dude! I have no idea if anyone's gonna believe me, but this is genuinely insane, dudes! I feel like the dude who saw the Monster Mash! Oh no! They're coming this way! They saw me! Gotta go, bye!
The official trailer for Lost Castle:

Our favorite Steam reviews:
Sale price info:
This matches the lowest Lost Castle has ever been individually discounted according to ITAD, previous low was $4.99 on Fanatical.
As always, use this thread to discuss this deal, talk about the game and find other people to play with!
(ノ◕ヮ◕)ノ*:・゚✧