Today's deal is looK INside!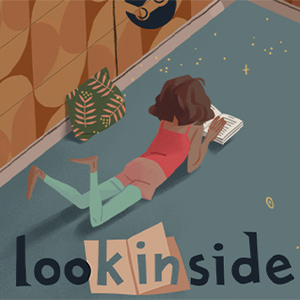 Steam: https://store.steampowered.com/app/1119710/looK_INside/
Description:
A GAME ABOUT YOUR STUFF

Someone is finally going through a box of things I left on a chair next to my liquor cabinet for like two years. I don't even remember what's in the box. There's a plastic Santa and his reindeer, about the size of a box of saltines, which was probably made in the 1960's, sitting on top of an old microphone and a hundred year old clock and a box filled with the stuff from a 23 and me I didn't do. Resident Evil 6 for PS4 was also in the box, right next to the box for my second 3DS, the first XL I ever bought.

Why did I leave this box here? I think I was about to move some stuff around so I got it all together but then it just morphed into "part of the background", like a separately animated piece of the environment from a Hanna Barbera cartoon that you know is going to move soon because it's a different color than the rest of the wall. But who does this box say I am? A cool dude? A sentimental idiot? A guy who spends WAY too much money on crap he'll never use?

Well, lucky for all of us, the real subject of Look Inside isn't crappy old boring me anyway. It's an interesting French family, with many generations of exciting old stuff to look through as you fill out your family tree. This game is actually varied and interesting and fun on an interesting and very chill level, and unlike a game about me, doesn't have to mark the passage of time based on what AAA game I bought for myself and then left to gain dust on my shelf. Buy it today for like four bucks and you'll AT LEAST get your money's worth.
The official trailer for looK INside:

Our favorite Steam reviews:
As always, use this thread to discuss the deal, talk about the game, and find people to play with!