Today's deal is Lethal League Blaze!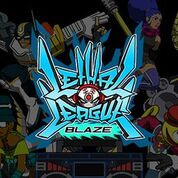 Steam: https://store.steampowered.com/app/553310/Lethal_League_Blaze/
Description:
NEW NINETIES VIBES

Hell yeah, kids! Dust off your primary colored clothing and confusingly floppy hats, cause it's time once again to play some anti-grav hip-hop electronic death baseball, and if you ain't hype for that, you've probably never lusted after LA Lights just before that commercial break, and no I'm not going to explain myself any more than that, so just grab some "radical" sunglasses and get ready to watch some stylish ass competitors die to the beat over and over again!

You're an outlaw anti-grav ball player in the Gamecubically-named Shine City, where the sport has been illegal since that funky fresh incident that happened almost 20 years ago now, when that group of teens got so cool they died, and now you just have to jump around, hitting a baseball at your opponents at superSonic speeds to climb your way up the ladder and claim glory in the coolest underground game ever played.

If you were pizza, you'd be the stuff from the family arcade with the minigolf with the thick drippy Michelangelo cheese. If you were a movie, you'd be Godzilla 1998 with Matthew Broderick and Jean Reno. If you were TV show you'd be the Wacky Deli episode of Rocko's Modern Life. But you're an awesome modern video game we're selling for 25% off so you're Lethal League Blaze.
The official trailer for Lethal League Blaze:

Our favorite Steam reviews:
As always, use this thread to discuss the deal, talk about the game, and find people to play with.