Already preordered. The hype is real.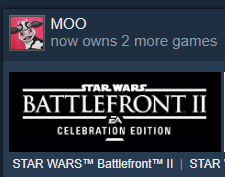 hm, yeah, sorry, Dirt Rally 2.0, you gotta go now cuz i need that space

I hope you get your sense of pride and accomplishment from playing.
nah, i get that mostly from trying to be the best son, father, husband, and employee i possibly can be (in addition to the religious stuff, which comes above all and actually demands those things as part of it regardless)
this is just a hobby in the end (though ofc it is also an integral and big part of who i am as well)
but thank you, i guess?
I guess haven't heard about the most downvoted post in Reddit?
now that you had to point it out and i took a look at it, i must admit it rings a bell and i did hear about that all the way back when, but I totally didn't get the reference, as is quite obvious

I don't think you are the only one. I probably should have posted the link with it.
Gloomwood indeed looks really interesting.
Gmanlives also did a video about it , playing demo version.
Some more indie games:
Prodeus

Shing!

30XX

Dead Static Drive

Raji: An Ancient Epic

El Hijo

Speed Limit

Skeleton Crew

Source of Madness

Remothered: Broken Porcelain

Dark Light

Pumpkin Jack

Eastern Exorcist

This. Pumpkin Jack! The names have caught me. Darn I really want a good Exorcist game.
I'm not hugely into these kind of card games like Slay the Spire, but this one might be the one to make me give it a go.
Since it's published by XSEED and by their historic with Steam this hopefully won't be snatched by Epic for a exclusivity deal. Still can't say anything since it doesn't have a steam page or release date yet.
I know they haven't officially announced a release date for the game, but AMD's promo with the game made it clear codes would expire July 30th 2020. So…I'm pretty dang sure we're getting the game before August (so I think late June or early/mid July). If not, their code redemption stuff is way bonkers.
What game am I talking about? Why Horizon: Zero Dawn of course.
I wish I could just pre-order it but noooooooo they gonna make us wait.
This was just released today. I don't know why they didn't make it a Free DLC instead of a mod but…hey…Lots of stuff



Hm… who was addicted to this game Forager? @YQMaoski?
YES @Danacscott



I knew it was either @YQMaoski or @yoshirules and I got distracted and forgot to check and just posted it.
It was me, I spent a few days doing nothing but eat, sleep, and play this game. It was a long weekend and it passed pretty quickly. At the time I played it to 100%, but since then, new content and achievements have been added, and a lot of times in this game when significant content is added, the older saves do not work, so you have to restart. I just haven't felt the want to restart it from scratch yet. Maybe one day.
Out today or yesterday (eh heh, brain silly) and free! It looks shiny; don't know about gameplay