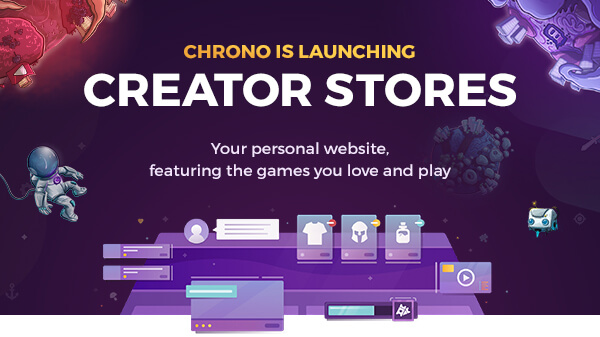 Chrono is launching Creator Stores!
Think of this like your personal website or merch store, but it features the games you're playing.
Now, when your audience buys a game after watching your content you'll get the credit you deserve.
How do they work?
Chrono works directly with you to build your store so that it looks and feels like your brand. From the colors, to the game reviews, to the featured content and even the favicon, you have the final decision.

You get to decide which games (released titles, DLC, pre-orders, etc.) are in your store and we'll work with our publisher and developer partners to make sure they're available.

In addition to featuring your favorite games, you can integrate other parts of your business into your Creator Store (e.g. merchandise, social links, etc.)
How much work is it going to take?
We've built Creator Stores to require minimal effort from you while yielding as high of an impact as possible - we'll handle all of the site development and game dev relations - you'll just need to let your audience know the site is live.

Once we've built your store, it's your call on how and when it's promoted as well as when games are added or removed. We'll be there every step of the way to make sure that your store is a success.
What can be expected in terms of revenue and game pricing?
Chrono leverages years of experience in games distribution to offer industry-leading revenue share to creators.

Everyone loves a good deal, so we work with the publishers of the games you choose in order to have regular discounts in your store that can be flash sales, week-long, or even centered around a specific event or piece of content. You'll also be able to generate your own discount codes and share them with your community.
And finally, what about reporting and payment?
All sales will be recorded in your personal dashboard where you will be able to track and export metrics like: historical earnings, copies sold, customer geographic information, and more.

Payments to you will occur on a net 30 basis from the end of each month.
---
To check out the stores of our launch partners and read case studies, visit creatorstores.chrono.gg
We want to hear from you! Feel free to ask questions, suggest store features or give your thoughts on Chrono Creator Stores.