Today's deal is Iconoclasts!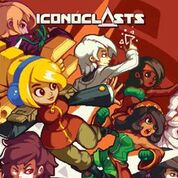 Steam: https://store.steampowered.com/app/393520/Iconoclasts/
Description:
RIP RIP

Almost exactly one year ago today, we wrote a silly piece about Rip Torn, the cantankerous Texan character actor who once uttered the phrase "If you can dodge a wrench you can dodge a ball", a phrase we remember fondly from a time before all the worldly weight we have heaped upon us now was piled on. We mentioned how even though he was a strange old brawler, equally famous for his acting and a slew of high profile bar fights, he was nevertheless the special glue that brought together a bunch of stuff we all love (Larry Sanders Show, Men In Black, God of War III).

But unfortunately, wheelchair-bound Dodgeball veteran Patches O'Houlihan probably never heard of Robin from Iconoclasts, because if he had, and he knew about the Ivory fuel One Concern were chasing, and the danger she brought into her life being an unlicensed mechanic in a scarily religious world, he never would have been able to say such derogatory things about a wrench, especially because it's such a great mechanic to fool around with in this great retro throwback game.

In fact, let's be honest, the real Rip Torn probably never really heard about Metroidvanias either, but, we surmised, if he had been able to play even one hour of the game, he probably would have changed the line to "If you can swing from a wrench across a bottomless chasm, you can dodge a ball", which doesn't quite have the same ring to it, but at least it's way more accurate. Last year we imagined that wherever Rip was, he was hopefully smiling and drinking, and now, a little over a month since we've lost this national treasure, we know he is.
The official trailer for Iconoclasts:

Our favorite Steam reviews:
Sale price info:
This matches the lowest Iconoclasts has ever been individually discounted according to ITAD, previous low was $10 on C h r o n o . g g
As always, use this thread to discuss this deal, talk about the game and find other people to play with!
(ノ◕ヮ◕)ノ*:・゚✧