Today's deal is Hyper Knights!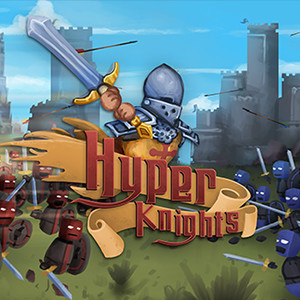 Steam: http://store.steampowered.com/app/597150/Hyper_Knights/
Description:
A KNIGHT IS A KNIGHT

Sir Goinkly awoke from his slumber almost glowing, just like always. He was a knight, so he did so respectfully, and it took him about 2 hours to properly get dressed. As he walked out the door into the crisp morning, he looked out to the horizon, ready to exude chivalry and enforce the will of his lord across the land. And yes, before you ask, this nerd really does think like this. As his eyes lowered back down to the area around his homestead, he noticed a flag on his mailbox.

He clanked down the path from his door to the road like a fussy heater that was just brought to life by magic. He pulled down the door and inside the box was just one letter, in an all-white envelope with a red wax stamp with a cross on it. He opened it and read it aloud with good diction and strong projection, because that's exactly the kind of guy he was:

"SIR GOINKLY THE BRAVE, YOUR VALOR ON THE BATTLEFIELD AND YOUR UNDYING COMMITMENT TO OUR KNIGHTLY WAYS HAS CAUGHT THE ATTENTION OF OUR LORD, THE HONORABLE SILAS DOINKLY. AS SUCH, YOU WILL HENCEFORTH BE KNOWN AS A HYPER KNIGHT. YOU SHALL BE EXPECTED TO DO MORE ON THE BATTLEFIELD WHEN CALLED UPON AND TO SUPPORT AND INSPIRE YOUR FELLOW SOLDIERS. PLEASE REPORT TO THE CASTLE IMMEDIATELY."

He didn't know what to do with himself. Opening that mailbox changed Sir Goinkly's life forever, and with a tear in his and a pep in his exceedingly well-postured step, he walked on towards his destiny, and light from above shone down upon him as he went.
The official trailer for Hyper Knights:

Our favorite Steam reviews:
As always, use this thread to discuss the deal, talk about the game, and find people to play with.