Seems like a lot of stuff for people who are interested.
Tier 1: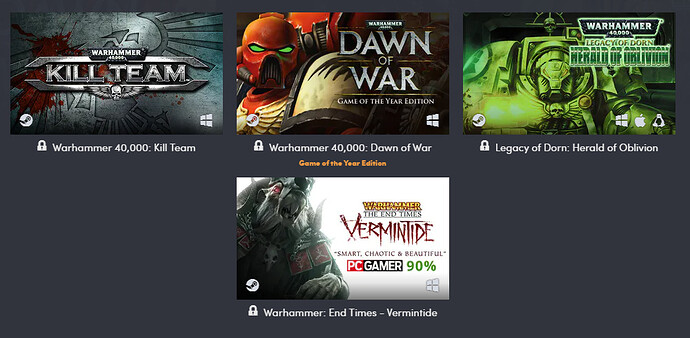 BTA (Currently $6.85)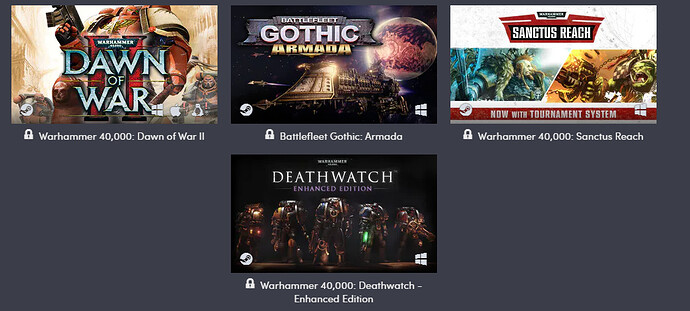 Tier 3: ($13)


Kind of a weird bundle this.
T1
Kill team: Mixed reviewed game that seems to be a bad port.
Dawn of War 1: Good game, really old though still certainly worth $1
Legacy of Dorn: Chose your own adventure game book / visual novel. Might be good but for a rather niche audience.
Vermintide: Decent MP only game but largely rendered obsolete by it's sequel.
T2
Dawn of War 2: Also a good game. Also old, probably worth the BTA price.
Battlefleet Gothic: Pretty decent game, I think it had some rather annoying balance issues that were never addressed.
Sanctus reach: I don't really know anything about this one. Reviewed well, but looks dreary as hell.
Deathwatch: Another mixed title, that I don't know much about
T3 - This is where it gets weird
Spesh mareen: Good, but really old now and has been given away for free a few times. Should have been t1.
DoW3: Relic released a game, Nobody liked that.
Blood bowl 2: Very niche game but by all accounts pretty well received by it's player base. If you want to play turn based american football with Warhammer miniatures then this is actually a pretty good price for what's included in the package.
The bundle I ever wanted. Sadly since I already traded Dawn of War GOTY and Dawn of War 3 as well and bought Vermintide in a cheap bundle (a dead online co-op), so there is no point of buying the bundle for me.
If only Dawn of War 2 was like master colection, that would definitely worth it.
The base game of Space Marine was FREE.
But there is a game changer
1 Month Free of Humble Choice for New Subscribers upon buying the bundle
Oh didn't even see that. That would make the bundle worth it I believe.
But oh man they're really not getting any new subscribers to their monthly are they?
Dont know if I get it right, but in that description next to 1 month FREE for Humble CHOICE, you may choose which month you want, not has to be this month… or am I wrong?


Can't say for sure, but I would strongly doubt it. I don't see much that indicates that a choice would be offered and they've never done anything of that sort before. I can also not see any website functionality that would make such a choice possible.
I'm almost perfectly certain that they will simply give you the currently offered month.
My guess is that the free month is going to be for this month.
Dammmmm!!!, i was expecting a new hb bundle but not one from Warhammer, gonna grab it now
Now $7.41
and for the humble choise, its $13, reasonable i think


You will get the current Choice with the coupon
Well… HB certainly knows how to treat their patrons right

thinking about making a new account for the Free choice now

Interesting selection of titles and especially how they tier'ed them this time around.
Tier 3. Blood Bowl 2 would be nice to grab but for 13$ ? Bit too steep. Space Marine was free and imho not that good anyway. And DOW 3 , well RTS games are not everyone's jam i guess.
Tier 2. Is only exciting for Gothic Armada so that for 7$ is a decent catch as far as i'm concerned. Other titles could be there or they could not , can't say they excite me too much.
Tier 1. Only Vermintide is a legit good game but as @Fraggles mentioned second installment just made it obsolete.
Thanks, @YQMaoski



So by buying almost any bundle on highest tier you get a coupon for activating humble choice of the CURRENT MONTH like you said. The coupon can be activated till 7. august 2020, not sure if the date changes if you postpon the purchase of any bundle. There are still 19 days till next humble choice