April 1st, y'all know what that means… it's Hammerwatch hYsTeRiA!!!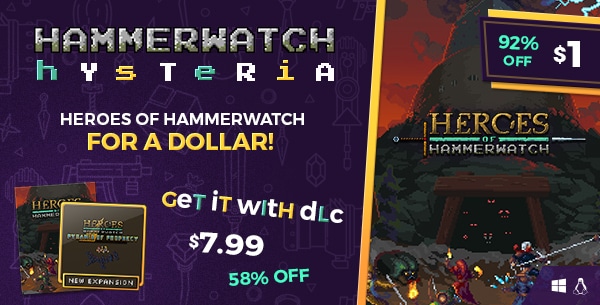 Steam: https://store.steampowered.com/app/677120/Heroes_of_Hammerwatch/
Description:
I will not be the april fool

HELLO EVERYBODY! I HOPE YOU'RE HAVING A WONDERFUL MONDAY. UNLESS YOU'RE GARFIELD, THEN THERE'S NOTHING I CAN DO FOR YOU. I'M HERE TO TELL YOU THAT THIS IS NOT A JOKE. IT IS NOT A DRILL EITHER. THIS IS NOT A JRILL OR A DOKE. THIS IS hYsTeRiAAAAAAAAAAA! WE REALLY REALLY ARE SELLING Heroes of Hammerwatch FOR $1.

OK FINE YOU CAN GIVE ME THAT LOOK. SURE, I GET IT, YOU DON'T BELIEVE US, IT'S APRIL FOOLS, WHY WOULD YOU. WELL, YOU SHOULD, BECAUSE YOU'D BE THE APRIL FOOL NOT TO TAKE ADVANTAGE OF THIS DEAL. THAT'S RIGHT, YOU'VE PROBABLY BEEN TOO BUSY DUNKING ON YOUR FRIENDS TO CONSIDER THE FACT THAT the collective CHOOSES A FOOL EVERY YEAR COME APRIL. YOU DON'T WANT TO BE THE FOOL. TRUST US.

IN SUMMARY: WHOOPEE CUSHIONS ARE THE WORST. DON'T GET DUNKED ON BY YOUR FRIENDS. QUESTION EVERYONE WHO OFFERS YOU A HANDSHAKE TODAY. AND DON'T BE THE APRIL FOOL. NAB A COPY OF Heroes of Hammerwatch FOR ONLY $1 AND GRAB THE DLC WHILE YOU'RE AT IT TOO. WHY? BECAUSE Crackshell, THE DEVS, ARE THE RADDEST FOLKS IN TOWN FOR CAUSING ALL THIS hYsTeRiAAAAA. THEY'RE THE ONES SAVING YOU FROM BEING THE APRIL FOOL, SO DON'T WASTE THIS OPPORTUNITY, FOOL.

yEEEEEEE -dusty
The official trailer for Heroes of Hammerwatch:

Our favorite Steam reviews:
Sale price info:
This is the lowest Heroes of Hammerwatch has ever been individually discounted according to ITAD, previous low was $7.17 on GreenManGaming.
As always, use this thread to discuss this deal, talk about the game and find other people to play with!
(ノ◕ヮ◕)ノ*:・゚✧