Today's deal is Heroes of Hammerwatch!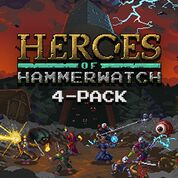 Steam: https://store.steampowered.com/app/677120/Heroes_of_Hammerwatch/
Description:
THE NUMBERS

Oh aye, traveler, sit here and listen if ye want, for I'm telling the tales of the Heroes of Hammerwatch. All you need to do is buy me a beer and shut yer gobs, and I'll keep it goin' all night! But anyway, I digress. Today, I'll be telling ye a tale of madness, of the type ye can only glean if ye've been adventuring for a while…the madness…of the endless numbers.

No man knows just how the numbers show up, or why. Some say they come when ye hurt something, or when ye get hurt, or even when ye're havin' a nice heal, but every man agrees that they have a meaning, like they're some sort of physical manifestation of a system that runs yer life behind the scenes, like the seam of some old god's shoddy handiwork; proof that all we are is a set of values on some cosmic character chart…it can drive a man insane.

In fact, some men'll tell ya the numbers have shown them secrets beyond what men can normally ken, like they've gone and died a hundred times over but they just don't remember, like. Like their whole existence is just tryin' to perfect something they've been working on since before we was born. And it's all thanks to the numbers…in fact, traveller, I've spoken to a mystic just this night, and in exchange for a tomato pasty, she told me that I have THREE magic numbers: $8, $15, and $25. Wonder what that means…anyway, who's got the next beer?
The official trailer for Heroes of Hammerwatch:

Our favorite Steam reviews:
As always, use this thread to discuss the deal, talk about the game, and find people to play with!