Today's deal is Game Dev Studio!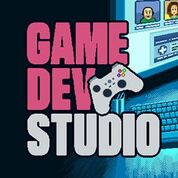 Steam: https://store.steampowered.com/app/773580/Game_Dev_Studio/
Description:
A WEBSITE WITHIN A GAME WITHIN A WEBSITE

Game Dev Studio is the game we're selling for three bucks today, and we're not sure whether all of you out there completely understand the idea of something being "meta", or if not that, maybe the more traditional phrases "Inception-y" or "Black Mirror-esque" will help you understand, but if you've never played the game before, it's literally a simulator for all the different steps and tasks it requires to make your very own indie game, and if you haven't noticed, that's exactly the kind of stuff we sell here, the greatest and most purple website on the internet, on a daily basis. It's tight, we're tight, and you're tight, and all of it references itself in a pleasing way.

However, we're never a site to back down from making it super weird, so we issue you all a challenge: Buy this cheap cheap video game about making video games that we are selling on our website (again, for just THREE FREAKING BUCKS), and do everything in your power to make a game that's a daily deal video game website simulator, so that we can officially have sold you a game about making games about selling games. At this point, it's practically BETTER than Inception, and we don't even have to fall off a bridge in a van in slow motion, or learn how to fight in rotating hallways!

So please, be our guests, try the challenge, hit us back with the results on the community forums, and the winners will get…our respect? The respect of your peers? A good excuse to go back and watch that Inception blu ray you've had lying around for almost ten years? The point is, all are good options, and more than anything, we just look forward to the added insight into our lives that you'll get once you pretend to make a game about it. Does your brain hurt yet? Ours do.
The official trailer for Game Dev Studio:

Our favorite Steam reviews:
As always, use this thread to discuss the deal, talk about the game, and find people to play with!**