Today's deal is Full Metal Furies!
The deal options are: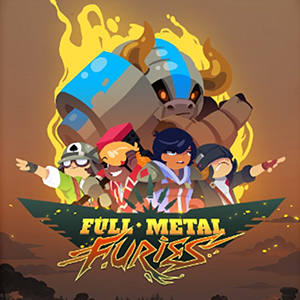 Description:
A GREAT BIG BANG-UP

In the cool cartoon Spider-movie that's still stuck in everyone's brain like thick ropey MacFarlane-level webbing, the young and earnest boy-Spider spends almost the entire movie in the older deader Spider's shadow. How can this strange awkward boy, who no one knows and knows nothing, possibly be a suitable replacement for a hero so nice, they rebooted him thrice? And yet, after consulting the world's most emotive dormitory door and shoving an entire team of wacky Spider-friends back through a hole that smelled like the bright acid-y ink and roughly textured pages of a newspaper funny, he realized that it was only when he developed his own unique relationship with the Spider-ness that he could truly assume the Spider-mantle, as no one ever calls it.

And let us just take a second to check in with you for a second here, reader, because up until this very moment, you've only heard the preamble to a much more exciting part of our argument today, which is that the video game Full Metal Furies, the very same game we happen to be selling for 75% off today at just $4.99, is in almost the exact same position our Spider-young man finds himself in just before the climax of that new animated classic. This developer's previous game, Rogue Legacy, was not only a famous and remarkable success, but also came along at the exact time a thought virus invaded the minds of every game developer at the game jam, bewitching them with pixel-art graphics and whispering songs about permadeath.

Everyone loves that game, and it's made well, and it sold like hot cakes, and yet for some reason, their next game Full Metal Furies, which is just as good in its own different way, gets none of the same love. So really, all we're really asking you to do here is to finish watching the movie. It is only when you develop your own unique relationship with Full Metal-ness that you can truly assume the Spider-mantle. Buy this video game at this good cheap price one time, and we'll get you an audition next time they reboot Spider-Man.
The official trailer for Full Metal Furies:

Our favorite Steam reviews:
Sale price info:
This is the lowest Full Metal Furies has ever been individually discounted according to ITAD, previous sale was $6.50 on Chrono.gg

As always, use this thread to discuss this deal, talk about the game and find other people to play with!
(ノ◕ヮ◕)ノ*:・゚✧