Today's deal is Frostpunk!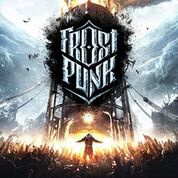 Steam: https://store.steampowered.com/app/323190/Frostpunk/
Description:
HARD KNOCKS

Yo, oh dang, it's December now!

I know, right? Man, I'm so excited for some snow…

Oh, I see. You didn't grow up somewhere where there was snow, huh?

I mean, is it that obvious?

Of course it is! No one like, pines for colder weather if you grew up with it. It's like you never even had to worry whether you'd be fine, or if the storm would get you.

Okay, well that seems a little extreme, but-

Pssh, well yeah! Easy for you to say when you're not in the last city on Earth!

What? Last city on Earth? I thought we were talking about our childhoo-

Like, let me ask you this: would you still like the snow if it's coming made you revert to steam technology for the good of the many?

I'm not even sure I know what you mean anymore? Has it ever been that bad in recent memory? I mean, I've never heard of anyone reverting back to steam tech…

Well I did, okay! And some people lived, and some people died!

Okay, I'm starting to not believe this is actually a real story you're talking about. That would never happen in a world with modern infrastructure that the entire species gets boiled down to one city…

Oh yeah? Then where the heck are you from that you're so high and mighty, huh?

Me? I'm from Vice City. B)

I hate you right now.

What?
The official trailer for Frostpunk:

Our favorite Steam reviews:
As always, use this thread to discuss the deal, talk about the game, and find people to play with.