What's the point of a spinoff if Bethesda is still making it? They only make one game, let Obsidian have another go.
This is taking so long it's absolutely ridiculous
I'll wait for 3.0 release of a tale of two wasteleands mod thats all i need.
Fallout spinoff: FallOff… about to fall off the shelves near you!
ppl been waiting 2h now wtf
Starfield

Um… yay?
Their peak is still Oblivion, imo. Every RPG they've made since that game has felt shallow and lifeless, not to mention the "Creation" Engine they hyped up was a complete letdown. Don't tell them it's their best game though, they'll try to go back and "remaster" it by butchering everything that made it good.
That's before taking a look at the VR "games" they made. $30 for a flimsy and worthless imitation of Doom, or $60 for a subpar minimal-effort port of an already-shallow RPGFPS. I'm uh… not exactly a Bethesda fan at this moment.
After they singlehandedly ruined Quake and Wolfenstein last year, I've outright boycotted everything Bethesda. I'm leaving an exception in there for The Evil Within and anything else Tango Gameworks puts out there, simply out of respect for Shinji Mikami.
I can sense the Rage! Can you guys sense the Rage 2?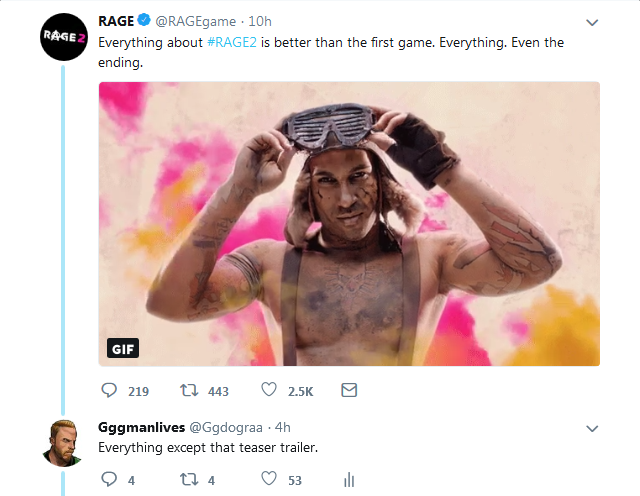 Totally agree with you, except that I don't like Oblivion either
Maybe it's just me, but I feel like the best "Bethesda" games are the ones they published (Bethesda Softworks) and not the actual games they developed
except where the rage 2 trailer just made it look like "another" openworld madmax/borderlands game with the Rage content drenched across it
Skyrim, but with guns, and post apocalypti… -wait, didn't we do this before guys?


the "linearity" was part of what made rage 1/doom so nice, if they are just gonna do skyrim/fallout with Rage assets/clone mad max/borderlands i really don't look at that trailer and get as excited as i had hoped for Bethesda/Id stf,
(PS shouldn't you be busy porting skyrim to the vita, or PS 5? moar God Rays dangit…!)

fallout 76,


what is it with companies and these naming schemes, don't they realize they amount of trouble they cause people
155 years from now, shortly after the actual fallout 75 has released, they are now gonna do some weird jump to get around this issue, like calling it Fallout 1/The First Fallout/Fallout The Beginning

when will battlefi… bethesda learn to keep sequential/consecutive or concurrent titles in a neat line/order…

(ps anyone dying for the actual release of the elderscrolls/fallout crossover ?


mult generation platform ports, remastered and remakes +vr&holo version pending too ofc)

Annnnd now I have John Denver songs stuck in my head.
"Country rooooooooooads, take me hoooooooome…"