Today's deal is Exoplanet: First Contact!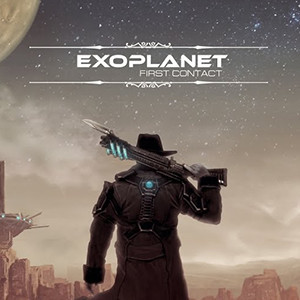 Steam: http://store.steampowered.com/app/531660/Exoplanet_First_Contact/
Description:
SPACE COWBOYS NOT SPACE COWBOYS

Hello potential customers! I'm one of the many big name lawyers Chrono.gg keeps on retainer for moments like this, where they want to make sure they don't get sued for a super dumb reason. Today, that's because the game we're selling for the next 24 hours, Exoplanet: First Contact, is BEST described as a game about space cowboys. I'm simply here to distinguish between the general concept of cowboys in space and the 2000 old man blockbuster Space Cowboys, which isn't even really about cowboys at all, they just didn't wanna call it Space Old Actors, probably.

So let me be clear: the game Exoplanet: First Contact is set on the planet K'tharsis. Never mind how much of a literary coincidence that name is though, because other than being in deep space, it's a pretty good analog for the Old West. There's new frontiers for the settlers, there's plenty of indigenous culture to butt up against, and there's tons of crazy new ways to make money. No Clint Eastwood, no Tommy Lee Jones, no Donald Sutherland, no James Garner.

In the movie, four old buddies who used to work on space stuff pre-NASA get pulled out of retirement cause an old Russian satellite is going to crash into the Earth. The crazy thing, though, is that the "bad guy" in the movie is James Cromwell, and all he wants to do is replace them with younger more capable astronauts, which we kind of agree with, especially once the find out the satellite actually has six nukes on it. Long story short everyone gets back safe except Eastwood, who sacrifices himself to save everyone, and rides the thing like a cowboy all the way to the moon, where he actually dies to the song "Fly Me To The Moon".

But anyway, yeah. They're different. Buy the game today, watch the movie later if you hate your eyeballs.
The official trailer for Exoplanet: First Contact:

Our favorite Steam reviews:
Sale price info:
This is the lowest Exoplanet: First Contact has ever been individually discounted according to ITAD, previous low was $12 on a lil store called Chrono