Today's deal is Evil Bank Manager!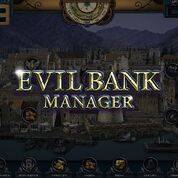 Steam: https://store.steampowered.com/app/896160/Evil_Bank_Manager/
Description:
A GAME ABOUT BANKS

Hey, Chrono-heads! Today's Daily Game Deal is a lil simulator we like to call Evil Bank Manager, and for just seven (7!!!) bucks, you can download your very own copy! Like, come on! Your very own 16th century baking simulator? Has there ever been better news? But hey, don't take our word for it, here's what people are saying about Evil Bank Simulator:

"A few years ago I used to play this mean rich character called Gordon Gekko, and this game is also about taking care of money, which reminds me of Shia LeBeouf! Nowadays, I'm mostly busy with my ants, though…not really related to banks…"
-Michael Douglas, Actor, Ant-Man

"When I rap, it's just an extension of how I speak, and that's how I talk. If you don't like it, don't listen."
-Azealia Banks, Rapper, Bank

"Honestly I think you made a mistake interviewing me, mate. Who did your research? First off, I've never heard of this game, and second, no one even knows who I am."
-Banksy, Bank Expert

"You called me because I 'pretended to rob a bank' in The Town? I thought this was an interview for a documentary! This is a total waste of my time. I have to go. Please, do not call me again. Chrono.gg is on my shit list…"
-Ben Affleck, Director, Pretend Robber

"Alex, why do I keep getting cease and desist letters from A-list Hollywood agents? Is this the 'secret project that'll blow my mind' you keep talking about? Is this why I didn't fire you last July? Why did you have to fly to England in Business? How did you find out who Banksy is?"
-Justin Sacks, Boss, Chrono.gg
The official trailer for Evil Bank Manager:

Our favorite Steam reviews:
As always, use this thread to discuss the deal, talk about the game, and find people to play with.