This weekend's deal is Epistory - Typing Chronicles!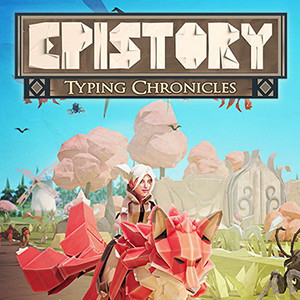 Steam: http://store.steampowered.com/app/398850/Epistory__Typing_Chronicles/
Description:
LEARNING STYLES

I used to be enough, you know? Used to be you just wanted to get better at something so you'd just practice it over and over until you got better. Your progress was your own reward, you know? You'd put on a suit, you'd go down to the office for a few hours, knock it all out, and boom you're home for dinner. Job well done. But now they want a story. Now they need INSPIRATION…hey, uh, by the way, can you spot me for a drink? Thanks.

The name's Mavis. Doesn't matter what my last name is. I used to be a famous teacher, and I made a huge impact on children all over the world, but unfortunately, I'm just an educator and not a video game developer, and now I mostly just meet people in strange bars and talk about the glory days. There's just…too much out there now. Kids can get everything I gave them and a beautiful engaging fantasy story for the ages, so why would anyone want to take a class from me?

And look, I'm not mad. I used to just be some perfume saleswoman until someone came up to me and said "Hey, I'm a software developer, and I want to be the face of typing education." I thought I'd be the gold standard forever. Now you can learn to type however you want, and that's…okay. Just…promise me that as you explore your beautiful paper world on your giant magic fox, bringing inspiration to the realm as you brush on your WPM, you'll remember where it all started. And what about that drink?
The official trailer for Epistory - Typing Chronicles:

Our favorite Steam reviews:
Sale price info:
This is the lowest Epistory - Typing Chronicles has ever been individually discounted according to ITAD, previous low was $3.74 on MacGameStore.
As always, use this thread to discuss this deal, talk about the game and find other people to play with!
(ノ◕ヮ◕)ノ*:・゚✧