Today's deal is Enter the Gungeon!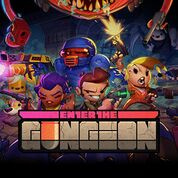 Steam: https://store.steampowered.com/app/311690/Enter_the_Gungeon/
Description:
TOP TEN TRIVIA ABOUT ENTER THE GUNGEON

Let's be honest, you probably already heard of the bullet/gun-themed rogue-like dungeon crawler that is Enter The Gungeon, so here's ten "facts" you might not have heard before!

The enemies are based off the bullet of the gun they shoot! If a guy has a shotgun, he'll look like a shotgun shell!

You shoot the bullets, who also shoot bullets themselves, with bullets to defeat them. Bullets.

Wait, so then are there bigger guns out there that accept these enemies as bullets?

And are there like, giant factories where huge people mass-produce giant bullets that come to life, or is it like a Cars the movie situation where humans were just never part of the picture.

And now that I think of it, what does a bullet eat? The obvious answer is gunpowder, but I swear there's like pizza and drinks scattered everywhere sometimes, so are we supposed to assume it's that? Do these bullets really eat pizza?

Am I overthinking this? I might be slightly overthinking this.

Okay, I'm still thinking about these living bullets, though. They have mouths and eyes, but is there a brain in there? Any yet they explode when you shoot them. What would a cross-section of this thing look like?

No wonder everyone wants to kill the past, this is some truly messed up shit.

…But if they kill the past, don't they kill themselves killing the past? Like how could a Terminator kill John Connor without being invented by John Connor?

Fact: I'm going to go soak in an ice bath and calm down. I'm starting to distress myself.
The official trailer for Enter the Gungeon:

Our favorite Steam reviews:
Sale price info:
This matches the lowest Enter the Gungeon has ever been individually discounted according to ITAD, previous low was $5 on everyone's favorite website, Chrono.gg

As always, use this thread to discuss this deal, talk about the game and find other people to play with!
(ノ◕ヮ◕)ノ*:・゚✧