Today's deal is DISTRAINT 2!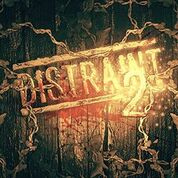 Steam: https://store.steampowered.com/app/743390/DISTRAINT_2/
Description:
MTV'S THE REAL WORD

So maybe this didn't bother you folks nearly as much as it did us, but we've been sitting here staring at the name DISTRAINT 2 on our internal upcoming releases schedule for a couple of weeks now, and the whole time, all we could think of was "…Distraint? Is that an actual word?" And yes, it actually turns out that it is. It's when you seize someone's property in order to pay off a debt, but that doesn't make it look any less fake, even though it is exactly what this trippy 2D horror game is about.

But then we thought it would be cool if we made a test. Below you'll find a list of words for y'all to look at, some of them will be real and some fake, and then you can play a guessing game with yourself, and google the words to find out if you were right. If you film a video of it and post it to our community forums, you won't get anything per se, except the satisfaction that somewhere in Austin, TX there's a roomful of people in purple hoodies who'll probably be giggling their asses off. Anyway, here's the words:

FRIENDLILY
PRONK
MUMPISH
KILLTACULAR
CABOTAGE
HUMUNGO
SPAGHETTIFICATION
CRAPULENT
SCHLORT
GUNBUNS
ABEAR
UNPUTDOWNABLE
The official trailer for DISTRAINT 2:

Our favorite Steam reviews:
As always, use this thread to discuss the deal, talk about the game, and find people to play with.