Today's deal is Diluvion: Resubmerged!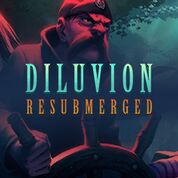 Steam: https://store.steampowered.com/app/446790/Diluvion_Resubmerged/
Description:
WAY DOWN BELOW THE OCEAN

The game of Diluvion was set in a world
Which lay after the great flood
In the area we now call the Atlantic Ocean.

So great an area of sea,
That from her western reaches
The ice walls stretched
To the South and the North Americas with ease,
And it covered the everything

To the East, the ice stretched,
until it became a shell over the ocean.

The great Jules Verne could have
Hardly predicted a world so far gone.

The antediluvian kings colonised the world
All the Gods who play in the mythological dramas
In all legends from all lands were from a time before.

Knowing her fate,
The humans sent out a submarine to all corners of the Earth.
On board were the Twelve:
The captain, the first mate, the helm, the engineer, the salvage crane ops and the other so-called crew members of this sub.

Though brave they were -
And as the elders of our time choose to remain home
Let us rejoice
And let us sing
And dance and ring in the new
Hail Diluvion!
The official trailer for Diluvion: Resubmerged:

Our favorite Steam reviews:
As always, use this thread to discuss this deal, talk about the game and find other people to play with!
(ノ◕ヮ◕)ノ*:・゚✧