Happy Holidays and Merry Christmas to everyone!
Today's deal is Dead Rising 3 Apocalypse Edition!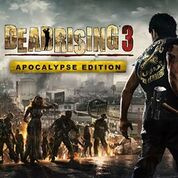 Steam: https://store.steampowered.com/app/265550/Dead_Rising_3_Apocalypse_Edition/
Description:
ZOMBIE MASHUP

You know, part of the reason why they say zombie movies (and tv shows and comics) have been so continuously popular for the past 60 years is that as kind of a "side effect" of the total overtaking of mankind by piles of flesh-eating ghouls, humanity kind of loses sight of a lot of the societal barriers we have in place as part of our daily routines.

It lets you live out your post-apocalyptic fantasy and it's sort of wonderful not to have the rules of society breathing down your back for a second, you know? But…as dutiful players of today's game Dead Rising 3 Apocalypse Edition already know…those people are forgetting something. The best thing about the zombie apocalypse is the amazing number of ridiculous weapons you can great to kill said zombies.

Want a robot bear with a machine gun? You can have it. A half-saw-half-sledgehammer? Done. How about a laser sword? Piece of cake. Channel all that pent up aggression about the world ending with some clever crafting and show those zombies who's boss.
The official trailer for Dead Rising 3 Apocalypse Edition:

Our favorite Steam reviews:
As always, use this thread to discuss the deal, talk about the game, and find people to play with.