Today's deal is DARK SOULS III!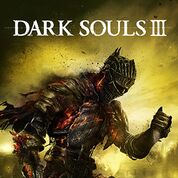 Steam: https://store.steampowered.com/app/374320/DARK_SOULS_III/
Description:
THE DARK SOULS OF GAMING

Today's sale is the Dark Souls of sales. You know, we realize people say that a lot, but this is literally the Dark Souls of reasons to call something the Dark Souls of something. We've got Dark Souls III, the Dark Souls of Dark Souls games on sale today for just 14 bucks, which is basically like the Dark Souls of price points. Can you tell we really like Dark Souls?

Maybe you haven't heard, but these games are HARD. Like, REALLY hard, and by buying this game today, not only are you showing your Steam friends how hardcore and awesome you are, but you're also showing yourself that you're not a quitter. Because you're NOT a quitter. You're a gamer, and real gamers play Dark Souls.

And you know? Honestly, we were worried going in that we wouldn't be able to write a product description worthy of such a brutally difficult and legendary game, but looking at it now, and the repetition, and the gruelling pace, and the fact that we actually to go back and check that we hadn't made this joke before, we're verifiably comfortable saying that this is the Dark Souls of ad copy too. Dark Souls.
The official trailer for DARK SOULS III:

Our favorite Steam reviews:
As always, use this thread to discuss the deal, talk about the game, and find people to play with.