Today's deal is Cybarian: The Time Travelling Warrior!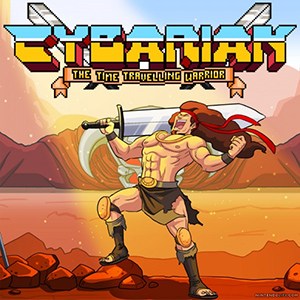 Steam: https://store.steampowered.com/app/928840/Cybarian_The_Time_Travelling_Warrior/
Description:
WE ARE ALL A BARBARIAN IN THE FUTURE

Look, video games are art. We've got there. It's an awesome aspect of the near cyberpunk-y future we now live in. But with all these new heady games they're making where characters grow and people learn lessons, is there still room for a quick little game about a buff ass barbarian who travels through time to slaughter bad guys? Will the world really accept another brightly colored action game that looks like it's from Stranger Things when high concept masterpieces like Death Stranding are just beyond the horizon?

Well let us ask you this: when you "grew up", did you suddenly stop loving pizza and the Justice League cartoon? When you graduated high school, did you throw away your Ghostbusters DVD? When they stopped making them in your size, did LA Lights instantly become uncool? Hell no. In fact, if you want some thematic realness, we're all the time-traveling barbarian messing stuff up in the future, and we rule at it!

Sure, maybe we're not as young as we used to be, but games like the ones we grew up with are still great, and they're a little more hardcore, and they're short but tough, and they have intense loud aesthetics and dumb crazy stories, and honestly, in what world does that sound bad? So please, we encourage you, dear Chronoids (still trying to figure out what to call you all, btw) to buy yourselves a copy of Cybarian today for just $2.49, and tell you what if it sucks, at least it costs less than a can of Ecto Cooler on Ebay.
The official trailer for Cybarian: The Time Travelling Warrior:

Our favorite Steam reviews:
Sale price info:
This is the lowest Cybarian: The Time Travelling Warrior has ever been individually discounted according to ITAD, previous low was $2.99 on Steam
As always, use this thread to discuss this deal, talk about the game and find other people to play with!
(ノ◕ヮ◕)ノ*:・゚✧**