Today's deal is Crossing Souls!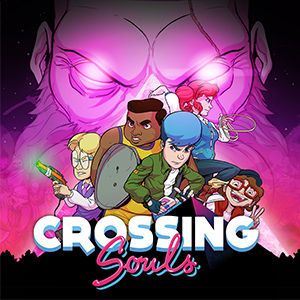 Steam: https://store.steampowered.com/app/331690/Crossing_Souls/
Description:
IMAGINE THIS ONE WITH BAD VHS TRACKING

Do you ever feel cheated by not being born at the right time to make you a teen in the 1980's? Like technically, if you want to split hairs, it's a safe bet that a lot of us technically ARE 80's kids, since we lived through them for a couple years, but even if you were born right in 1980, you're only ten years old by the time 1990 comes around, right? So unless you're like, 46 right now, stop fronting. You weren't there for it. And here's the thing, we understand why it feels so familiar. Entertainment culture in America basically hit its apex in the 80's, which is why so many movies and TV shows are still just rehashes of stuff from back then.

But just like it would rule to be a knight but it would suck to live in medieval times, people sometimes forget the bad of the 80's when looking back, and just cruise right by the stuff that on second thought might make you say…no thanks. For instance, did you know that 88% of all teenage friend groups in the 80's somehow came across ancient or alien artifacts which gave them a secret to hide from the government? I mean, I'm sure we all LOVE these iPhone-controlled scooters that clog our city streets in 2019, but back then, bikes weren't just for fun, they were for running away from G-Men, Evil Scientist vans, and local officials who didn't know they were in league with pure evil.

And if you thought all those buff guys and slimy gross-out toys were there just to appeal to kids, you're wrong. All that stuff was inspired by real adventures 80's kids were having, and to be honest, most kids today don't even play with toys, so how could they ever be ready? No, luckily today all we have are games set in this wild time period, so we can live through it without all the danger and cardio, and still pretend like we have actual nostalgia from a decade almost 10 years before most of us were born. So please, buy Crossing Souls today, and see what you're missing from a safe distance. And since we're the best, how about we sell it at an 80's price, too? 75% off until you can't see this message anymore. Stay radical, dudes!
The official trailer for Crossing Souls:

Our favorite Steam reviews:
Sale price info:
This matches the lowest Crossing Souls has ever been individually discounted according to ITAD, previous low was $3.74 on Steam.
As always, use this thread to discuss this deal, talk about the game and find other people to play with!
(ノ◕ヮ◕)ノ*:・゚✧**