Today's deal is the Call of Juarez Bundle!
Call of Juarez Bundle (Includes Gunslinger and Bound in Blood) - $7.49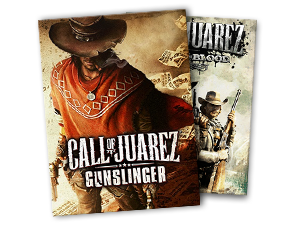 Description:
WITH THE TOP LET DOWN AND THE SUNSHINE SHININ'

Ahhh, cowboys. You know, here at Chrono, we pride ourselves on always bringing you great titles at absolutely bonkers kablooey prices, but sometimes, as the copywriter here, it's hard to come up with simple straightforward ways to pitch the game of the day to people who've maybe never heard of it before, and to explain kind of what it is and show off what's fun about it, all in three cute little paragraphs, all while trying to sneak in a cheap chuckle or two for the people who only read as little as physically possible and need a splash of levity to get through anything longer than a few sentences. (Or let's be honest, in my case it's usually three or four absolutely huge run-on sentences. It's my style. Ahem.

But the difficulty level doubles or triples the more esoteric the game gets. A game where you simulate the ins and outs of a super specific type of farming? That's a double. A game where you're an alchemy student and all the gameplay is learning a simple programming language that helps you solve increasingly complicated open-ended puzzles? That's a triple. But Cowboys? The Call of Juarez bundle? That's easier than sellin' bugs to a lizard! (Is that a real saying? Actually, doesn't matter.)

But honestly, who doesn't like cowboys? They're strong, they're confident, they're free, they've got cool guns and nice horsies, they're hard-drinkin', they don't have student debt, they're physically fit, they pay for all their own bills, they never use the one-day delivery option on Amazon, they live sustainably, they give back to their communities, and no matter how hard you try, you'll never find one on social media because they don't even have computers or phones. With cool qualities like this, what else do you even need to know? Why haven't you bought everything, yet? Go be a cowboy!
The official trailer for Call of Juarez: Bound in Blood -

The official trailer for Call of Juarez: Gunslinger -

Our favorite Steam reviews:
As always, use this thread to discuss this deal, talk about the game and find other people to play with!
(ノ◕ヮ◕)ノ*:・゚✧