Today's deal is Call of Duty®: Modern Warfare® 2!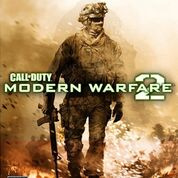 Steam: https://store.steampowered.com/app/10180/Call_of_Duty_Modern_Warfare_2/
Description:
RETURN OF SPENCER

Hey Spencer, what's up dude. It's Chet, dude! From college! Yeah, THAT Chet! Yeah, the one who grabbed that horse's…yeah. Well, how are you? You good? You still killin' it at astronomy or geography or whatever it was you were doing? Biology? Oh. My b, dude, my b…well look, the whole reason I'm calling is I guess there's some website out there, something about corn, where today you can like, buy Modern Warfare 2 for EIGHT BUCKS, dude! I know!

Remember that one time I worked in the music section at Borders and then I quit to stay home and play Xbox? That was Modern Warfare 2, dawg! Man, I remember sitting there for hours on end, unlocking stuff, saying shit into the mic that would make my Catholic grandma disown me! Those were the DAYS, man! But yo, guess what I found out though! Remember that weird ass mode where they make you shoot up an airport? I always thought it was in super bad taste, but apparently there's a whole story mode that goes along with it??? I know, right?

I guess back then I was still super dumb and naive, and I was just having so much fun playing online that I never even thought about the fact that this game could have any type of interesting plot! But I was dead wrong, yo! Russia totally invades the US in this game, dawg! It's insane! And now that everyone we know moved on to other online games for the most part, maybe it's finally time to sit back, crack open a can of bread and play it out, you know?

Or whatever just go online again, it's still just as good.
The official trailer for Call of Duty®: Modern Warfare® 2

Our favorite Steam reviews:
As always, use this thread to discuss this deal, talk about the game and find other people to play with!
(ノ◕ヮ◕)ノ*:・゚✧